Unique Balloon Deliveries in Knoxville
Want to give someone something unique they'll never forget? Think first about balloon deliveries! From simple bouquets to filling a room from floor to ceiling with colorful balloons, we can take your message and turn it into something out of this world!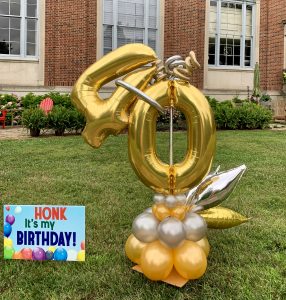 We'll make our balloon deliveries wherever you need us to! Furthermore, we will take a snapshot and message you immediately so you can see the effect your gift has!
How about a special or unique message spread across a front yard? We can accommodate your request with either balloons or signage or better yet, signs with balloons! Have you seen our giant yard balloons colorfully announcing someone's birthday? What about a not so discrete, "Will You Marry Me?" We can do this with balloons of different sizes and colors personalized with your unique message!
Do you really want to stand out? How about being the sender of a humongous, 6-foot diameter balloon inscribed with a personal message! Volunteer Balloon Decor can easily deliver this mammoth balloon anywhere!
Parents of UT Students
Send your son/daughter something from their favorite store! We'll be happy to pick up your special item, dress it up with balloons and deliver it on your behalf! Consider us to be your "delivery concierge service"!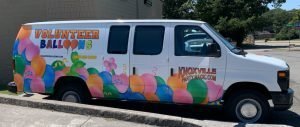 Let us be your Super Hero delivery service – whether it be a gift picked up locally that we've dressed up with balloons or one of our amazing balloon bouquets!
Volunteer Balloons to the rescue!
Pricing
Custom Arrangements:
$100 & up + delivery (minimum $25 – 15 minutes from UT Medical Center)
Personal Item pick-up:
$25 (within 15 minutes of University of Tennessee Medical Center) using our regular vehicle. Larger items needing service van – call for pricing.
Delivery:
$25 & up
– Same Day Service or delivery within 24 hours: Additional $100 fee
– Delivery requested between 7:00 pm and 8:00 am: Additional $25
Call or email for additional details – we'd love to make this happen for you!