As are floral deliveries, our services are considered essential – uplifting emotional and mental health is totally essential – don't you agree? Deliverable Balloon Hugs are touch-free – we will deliver to your mailbox, lamp post, front porch or yard. We'll take a snapshot & notify you by text that your delivery has arrived!
Our fun, economical sculptures are designed to uplift and bring joy to you and your neighbors. It is our hope that our colorful and cheerful designs give everyone a reason to smile!
Many of our friends and families have been isolating themselves to stay safe & healthy. These folks are in dire need of something to keep them smiling and uplifted. In this time of uncertainty, we believe that our Balloon Hugs with their bright colors and cheerful, uplifting messages encourage our loved ones to stay strong and positive! Each of our designs will include a laminated card with an uplifting message on one side and, if you choose, your personalized note on the other.
You can order a Deliverable Balloon Hug for yourself or have one or more delivered to someone in your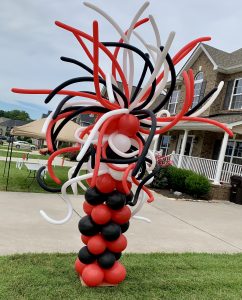 neighborhood. These are so affordable – you can send them to everyone! There is no charge to deliver to residents of the Mount Olive Community and closely surrounding area. Or, place your order and come pick up your fun Balloon Hug! We are set up for a totally "contactless" pick-up from my home studio. Call now & start spreading the joy right away!

Buzz Balls $25.00 each
Create a fun "buzz" in your neighborhood with these vibrantly colorful clusters of balloons. Almost 2′ in diameter, we can attach them to your mailbox or lampost. Order several and use them to line the path to your house! Such an easy and affordable way to brighten your street! These giant Buzz Balls come with color-coordinated ribbons
Crazy Column $79.00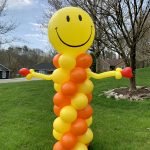 The ever-popular and eye-catching column! This stunning 6' display guarantees to lift everyone's spirits as they drive by your house! Available with a giant Smiley Face or a 3' round latex top or a foil design of our choice. Includes your choice of one of these inspirational words: Faith, Hope, Love, Courage, Blessed, or Smile!

Joy Spreader $79.00
Of all the Balloon Hugs, this one is the most fun to display. Watch your neighbors come by and strike a pose and take selfies. Can you think of a better way to make everyone smile? Available in a multitude of colors!
Finally, check out our fun Smile Maker lawn crashers and share smiles with all of your neighbors!
Way more fun than a bunch of pink Flamingos!
We still offer unique special deliveries – these too will be contactless!
Deliveries in other areas of Knoxville available
minimum order of $100 + delivery fee.