Balloon Twisting on Independence Day
This balloon twister had a great day at the Festival on the 4th at Worlds Fair Park in Knoxville with a team of 4 face painters and 2 other balloon artists. We managed to satisfy the needs of almost all the kids in line, almost.
Gigs like this are not easy. I can only speak for myself but for four hours straight I twisted dogs, monkey, turtles, lady bugs, swords, flowers, ballerinas & butterflies (I'm sure I've forgotten a few)… non stop.  No potty breaks, no slowing down. My husband showed up later and he fetched me some water… I didn't realize how thirsty I was until the cold water touched my lips! This doesn't surprise me – I always forget to bring water! I don't even realize how dehydrated I become because I'm so busy!  It's only when I start feeling light headed do I realize it's time to drink!
After fetching my water, Scott headed out to photograph the event, with the hopes of capturing it's spirit for the "history books." You might want to check out his photos…he took some great shots.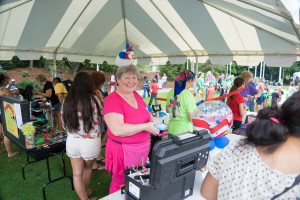 Pleasing both kids and their parents
I know it's tough for the parents waiting in line too. At least I'm in the shade (usually). I always try to go as fast as I can all the while paying attention to the little person in front of me, waiting patiently for their personal creation. It can be hard to twist and not get absorbed in what you're doing..  "How much air, how little air, bubble twist here, ear twist here, etc…I try to make every creation fun and actually not put too much thought into what I'm doing. Interacting with the kids is way more important. I love seeing kid's faces light up when they see their design come together!
Saying goodbye is the hardest thing to do for a dedicated balloon twister
Then comes the most difficult part… only 10 minutes left on your shift and there are still 50 people in line – and people still keep coming… we all dread this time. You can't leave your station to warn folks you're almost done because you want to continue until the last minute. You can't yell out "10 more minutes till closing".. it's just too loud all around you. You know some parents are going to get angry and unpleasant. They all say the same thing… "Just one more? We've been waiting 30 minutes!"  The most hurtful line is, "Ah come on, would it hurt you to make just one more?"…
Thankfully yesterday we were able to catch a security guard and he closed the line for us.  He just didn't tell folks we were done, he hung around and made sure everyone understood and didn't try to bully us. I wish we always had a security guard!
I packed up my stuff, said good-bye to my friends who were also packing up and headed to my car. After standing 4 hours straight all I wanted was something cold to drink and a place to put my feet up! It's not easy being a balloon twister, but the reward of seeing the smiles I put on kids' faces more than compensates for my aches and pains.