Balloon Fairies: A life-giving balloon release, filled with wildflower seeds.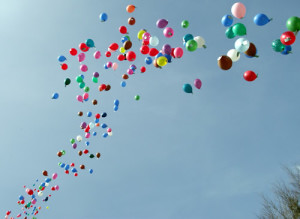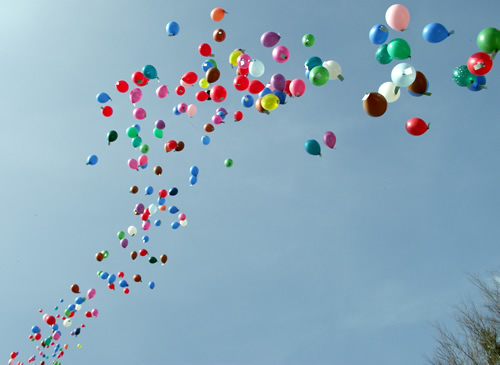 Consider a balloon release with wildflower seeds as an affordable, unique, one of a kind gift. Your guests will be amazed at this idea!
Releasing balloons at funerals and other poignant occasions is a good way especially to help a child understand the circle of life and say goodbye to someone special in a meaningful way.
For as little as $10 per balloon, allow your guests to release a beautiful, biodegradable helium filled balloon that once it reaches it's maximum altitude (about 4 to 5 miles), will explode and liberate an organic paper heart filled with wildflower seeds! Once freed from the confines of the balloon, the little heart will flutter, drift and float and most likely land somewhere where the little seeds within it will sprout and grow lovely wildflowers!
A balloon release is biodegradable and environmentally safe.
The little paper hearts are biodegradable and contain anywhere from 30 to 50 seeds, ready to sprout. All they need is a little dirt, a little water and a good dose of sunshine! When you place your order, let us know if you'd like us to write the name of the guest of honor, date/location of release, etc., on each heart inserted in each balloon.
What a beautiful and unique way to memorialize your special day! To know that someday, somewhere a beautiful bouquet of wild flowers will bloom, all because of you!
As for the biodegradable latex balloon, it will break into tiny slivers and will decompose in about the same time as an oak leaf. Balloons are attached to a 6 inch piece of biodegradable raffia. We don't use any nylon ribbons or strings therefore eliminating the risk of balloons catching on trees or power wires or birds getting entangled.
What do The Balloon Council and the Center of Marine Conservation say?
For anyone concerned with balloon releases and their effect on the environment, I would invite you to read this valuable information posted on The Balloon Council Website, (TBC), an organization of retailers, distributors and manufacturers, formed in 1990 to educate consumers and regulators about the wonders of foil and latex balloons and the proper handling of them.
"Bottom line – balloon release litter has never been a significant part of the list of debris and it continues to drop towards the bottom of the CMC's (Center of Marine Conservation), list. The declining trend coincides with the industry's public education programs and is evidence that the packaging information about proper disposal and releasing of balloons is working." If you're still not convinced? Here's another valuable source of information can be found on the Balloon HQ website.
Pricing for wildflower-filled helium balloons for a balloon release.
Pricing starts at $10 per balloon with a minimum of 10 balloons. Balloons are round, 11" in diameter clear and imprinted with white fluttering butterflies. Other colors are available. Can be picked up or delivered in the Greater Knoxville area for an additional fee. Please contact us for more info!