UT Campus balloon delivery available from
Volunteer Balloons

!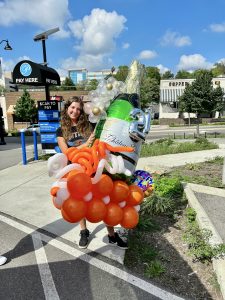 Specializing in delivering fun, affordable balloon birthday arrangements to students at UT Campus – Volunteer Balloons is the company to call! Parents, look no further! For as little as $119, delivery included (campus area), I deliver a fun balloon arrangement to your kiddo on campus. Includes a personalized card and a photo that's texted to you shortly after delivery.
Better yet, send your son/daughter something from their favorite store! We'll be happy to pick up your special item, dress it up with balloons, and deliver it on your behalf!
Let Volunteer Balloons be your superhero to the rescue with a UT Campus balloon delivery! Whether it be a gift picked up locally that we've dressed up with balloons or one of our amazing balloon bouquets! Consider us to be your "delivery concierge service"!
UT Campus Balloon Delivery Pricing
Want to give someone something unique they'll never forget? From simple
bouquets
to fill a room from floor to ceiling with colorful balloons, we can take your message and turn it into something out of this world!
We'll make our balloon deliveries anywhere on campus or surrounding area! Furthermore, we will take a snapshot and message you immediately so you can see the effect your gift has!
Do you really want to stand out? How about being the sender of a humongous, 6-foot diameter balloon inscribed with a personal message? Volunteer Balloon Decor can easily deliver this mammoth balloon anywhere!
Additional services/prices
Custom Arrangements:
$119 & up including delivery (locations 10 minutes from UT Medical Center)
Personal Item pick-up:
$25 (within 10 minutes of the University of Tennessee Medical Center) using our regular vehicle. Larger items that need our service van – call for pricing.
Delivery (Campus & surrounding area): $25 & up
– Although we prefer a little "heads-up" we offer Same Day Delivery at no extra charge as long as we can fit it into our delivery schedule.
– Delivery requested between 7:00 pm and 8:00 am: Additional $25