A Certified Balloon Artist is a member of a group of balloon professionals who successfully complete a series of tests, including oral and practical exams. At this time, there are fewer than 3,000 Certified Balloon Artists worldwide.
What does this mean to our customers?
Besides being trained to use only the best quality products in all of our creations, through extensive training we are educated on industry standards and are accountable for maintaining them.
Not only are we trained to execute decor using proper design elements but also to be professional, offer superior customer service, excellent business practices, and use current balloon decor techniques.
The purpose of training and ongoing continued education is not only to create artistic decor but with the ultimate goal of creating an experience – a visual design that will make customers wonder how that was done using balloons! This can only be achieved using professional techniques and methods learned from instructors with years of experience and dedication to the world of balloon art!
Requirements to Become a Certified Balloon Artist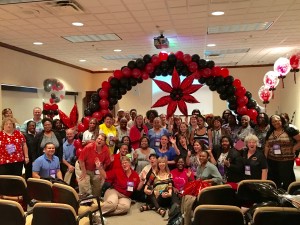 In order to obtain this certification, candidates are required to perform certain tests.
complete and pass a series of 3 written exams of almost 100 questions with a minimum score of 80%
produce perfectly constructed personal balloon designs and precisely reproduce designs selected by the industry's leading manufacturer of professional quality balloons.
demonstrate knowledge of color, design, balance, proportion, and rhythm
Finally, in front of a panel of 2 to 4 leading experts in the industry, the candidate must be able to explain design theories, delivery & sales techniques, business practices, and etiquette. This is a timed, 4-hour, hands-on exam designed to confirm your knowledge of the curriculum.
The success rate among candidates within an exam session is less than 25%. Many candidates must repeat the process until a passing grade is acquired. Anyone desiring to obtain their certification must travel to a predetermined location, oftentimes in a different state, and pay exam costs. Some candidates do well and obtain their certification after the first exam while others may have to repeat the process one or more times.
---
Becoming a Certified Balloon Artist Requires Persistence and Dedication
It is my goal to offer the best balloon business to my customers in the Knoxville area. As part of my personal business ethics, my goal is to treat all of my customers as if they were my only customer, no matter how busy I am.

For More Information – How to Become a Certified Balloon Artist
Please contact Pioneer Balloons directly (information below)
RJ Carlino CBA
rj.carlino@pioneerballoon.com
Pioneer Balloon Company
5000 E. 29th St., N
Wichita, KS 67220
Phone: 316.688.8604
The World Balloon Convention, Learning New Skills & Techniques The place to learn and expand your knowledge of the balloon decor industry, reconnect with old friends, and make new ones! Take your business to the next level!