Events Decoration All Around Knoxville
As summer winds down we've found this to be a busy time of year for events decoration and entertainment. As always, we love to bring our balloon decor to various venues throughout Knoxville and to serve so many different types of clientele. Regardless of the nature of the event, there is always a commonality among our clients: they are all interested in providing a festive setting and want to add color and fun to their environment. Yes, events decoration with colorful balloon decor is just what the doctor ordered.
Here are a few examples of recent and upcoming events for which Volunteer Balloon Decor has been contracted for their events decoration.
---
Kappa Delta Sorority – University of Tennessee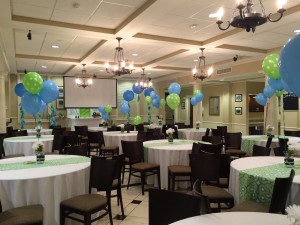 This time of the year the sorority houses on campus hold open houses to recruit new members. Kappa Delta contacted me a couple of months before their August event to discuss their event decoration ideas. I visited the sorority house to provide a free-of-charge onsite consultation and came up with a plan for their balloon decor that fit both their room and their budget.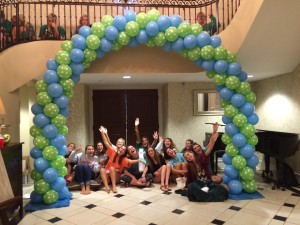 Upon arriving the night before their event, I was surprised to find well over 100 young women in the house preparing for the weekend event. I never met such a nice group of girls!
I had to build my balloon arch with at least 60 girls sitting on the floor around me. Luckily an angel showed up and helped me by handing me the balloons!
---
Knoxville Downtown Dragon, Drum and Paddle Race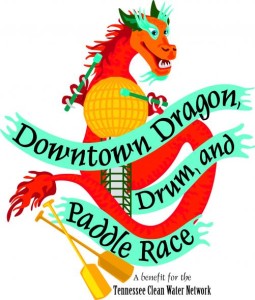 In the vein of unique events, The Downtown Dragon, Drum and Paddle Race ranks right up there. The race benefits the Tennessee Clean Water Network (TCWN) located in downtown Knoxville. We were hired to provide the event decorations by Katom Restaurant Supply, one of the major sponsors.
According to the Outdoor Knoxville event site, "Teams of 20 paddlers, a drummer and steerer race in authentic Hong Kong-style, 46-foot-long dragon boats. All ages, skill levels and physiques can participate, making it the ultimate team building sport. Successful racing requires much more than just power – synchronicity and finesse are critical. Bring your best on race day!"
The race starts at Volunteer Landing, the location for our outdoor balloon decor. The event takes place this Saturday, August 29. Teams can still register at the TCWN website.
Update: Our photos from the Dragon, Drum and Paddle Race can be viewed and downloaded from Google Photos.
---
Subway Race Against Cancer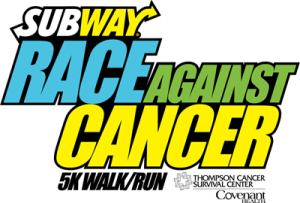 We are thrilled to have been selected to be the events decoration sponsor for this great cause sponsored by Subway. The Race Against Cancer is a 5K walk/run taking place at World's Fair Park in Knoxville on November 8. The event raises funds for the Thompson Cancer Survival Center's Cancer Outreach Services program.
According to their website, "Since its inception 21 years ago, the race has raised $5 million for cancer education and care in East Tennessee. Thanks to Race Against Cancer supporters and participants, thousands of medically underserved individuals have received life-saving screenings and information each year. Unlike some fundraisers, proceeds raised by the race go to fight cancer locally. Through prevention, early detection and education, we are saving lives."
Volunteer Balloon Decor is pleased to contribute to this wonderful cause by offering its events decoration services at a dramatically reduced price.
We are truly grateful that we have been busy this summer and we anticipate a busy fall season. Give us a call and we'll work with you to find the right decor for your next event. Remember, no job is too large or too small. We can accommodate virtually any budget.
---