The balloon decoration business: it all comes down to excellent customer service.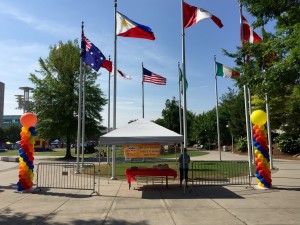 Delighting our Knoxville area customers with great balloon decoration products and services will be the key to our success.
A new business is always a challenge in so many ways… as much as you can be prepared technically and believe you're ready, something is bound to come up that's going to test your new abilities! The balloon decoration business is no exception.
Mid morning Thursday I received a phone call from Sally with Premier Athletics requesting four balloon columns in the clients logo colors… needed for 8:00 am the next morning for the opening of Knoxville's Largest Kids Party at the World's Fair Park in downtown Knoxville, sponsored by Premier Athletics and Chick-Fil-A! Of course I don't stock balloons of every color and I'm not expected to but normally you have plenty of time to order product. Normally! Life is full of unexpected moments and you have to learn to adapt… something I think I'm pretty good at!

Beautiful Balloon Decoration Requires a Professional
As a professional balloon artist, the last place you'd purchase your product would be at a party supplies outlet. However for this occasion I reluctantly got all the balloons I needed. My husband helped me build the framework and we were on location Friday morning putting up the client's colorful columns! We set up balloon columns at both entrances on each side of the admission's tent where everyone walking in (or out), was able to admire my artwork – the most spectacular being the 36″ balloon that topped each balloon column!
The rest of the day I was set up with my little station and twisted balloons for kids – I only offered one & two balloon designs simply to make it affordable to everyone. Should the balloons pop before they made it back home, parents wouldn't be so upset at the dollar or two spent.
Around 3:00pm we were unexpectedly hit by torrential rain storms and I was soaked to the bone in a matter of minutes (so did most guests that didn't make it to cover quickly enough!). I waited for the rain to lessen and headed to the parking lot. With every step I took, water squeezed out of my shoes and made that funny squishy sound! By the time I reached the Tickle Mobile, the sun was shining brightly and almost all activities had resumed. I, however, headed home for some dry clothes!