DIY BALLOON DECOR & IT'S EFFECTS ON OUR INDUSTRY
Everywhere you look, someone is building/making/creating something that is normally done by a professional. With the advent of Youtube, Etsy & even Amazon more and more people are attempting to "do it yourself" or DIY balloon decor. However, I believe that if you have no idea what you're doing, you should rely on a professional.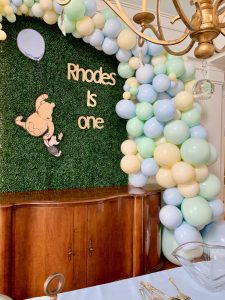 DIY SUCCESS OR FAIL?
Twice in the past month I've experienced the same "DIY" fiasco. Recently a client emailed me a photo of exactly what she wanted. A large organic demi-arch with custom color balloons. I gave her a fair price – not just a number I picked out of the air but a price that was calculated using a mathematical formula that takes into consideration ordering the custom color balloons, costs of goods sold, the labor involved with inflation, building, delivering, assembly and putting it all together at the party site.
After several attempts to reach her for a decision, she replied to decline my proposal indicating that this was above her budget and they would do something else.
TWO DAYS BEFORE THE BIG DAY!
Last night I received a call from a distraught dad who asked if there was any way I could make that arch for them & deliver & set-up for the following Saturday (2 days later). He identified himself as the husband of the woman who asked for the custom color demi-arch. I told him that I didn't stock those colors but could build something very nice in a different color. He proceeded to tell me that he had the balloons – purchased from a DIY balloon decor site on Etsy and by the way, would I give him a deal since he already had the balloons? Sadly for him, I can't do that. A big part of my revenue comes from the mark up on the balloons that I purchase wholesale. A client that provides their own balloons equals lost revenue for me. Not to mention that I have no idea of the quality of the balloons they are providing!
TO DIY OR NOT TO DIY?
So here's my beef… the box the client received from the Esty store contained the wrong items to produce the demi-arch the client requested and was represented on the Etsy store. Way too many large & extra large balloons and no small balloons. Not to mention that all the balloons were double-stuffed to create the pastel color requested – colors that I can get from my wholesaler for half the price! The instructions to build this organic arch were ridiculous! It was obvious that the person selling these DIY kits was definitely not a balloon professional. There is no way that someone can use these items and create the arch they showed on their Etsy store! That was a $210 rip-off!
So, because the client tried to save money, they ended up spending $75 more than my original quote and because I have the wrong balloons, they will not have the decor they so wanted!
DIY VS EXPERTS
The moral of the story is, don't try to DIY if you don't know what you're doing! What I charge accounts for my expertise & experience. I have paid quite a bit to learn what I know. Save your money and your time and use the services provided by experts – it will be well worth it!